The BN360 year of programming includes 15+ events organized around our main tenets of connecting, developing and empowering.  All events are included with membership. All of our events are focused on connecting, developing, and empowering professionals between the ages of 21 and 40.
12:00 PM - 1:00 PM
An interactive workshop that clarifies the what, why, and how of microaggressions. We will examine intent versus impact, identify and define racial and other microaggressions, examine the experience of receiving a microaggression, and jointly ...
12:00 PM - 1:00 PM
Employees at all levels play a huge role in fostering a more positive workplace and a better overall working environment. Positive work environments have been proven to be more productive, have higher engagement levels, and higher retention rates. ...
Interested in Sponsorship?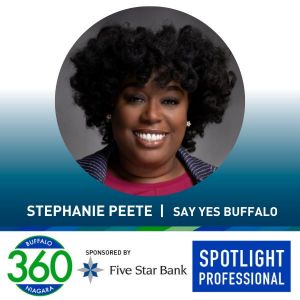 The Buffalo Niagara Partnership is pleased to present our June 2022 BN360 Spotlight Professional, Stephanie Peete.
Each year, BN360 highlights up-and-coming young professionals who strive for professional growth and development, care for their community, and are passionate about the future of the Buffalo Niagara region.