The Member Events Calendar keeps you informed about workshops, networking, and fundraising events hosted by Members of the Buffalo Niagara Partnership. Explore the calendar below and check back for new events! 
UB Alumni Webinar: Startup Ecosystems - Why They're Essential for Communities of Entrepreneurs, and How to Get Involved In One
Wednesday, March 8, 2023 (12:00 PM - 1:00 PM) (EST)
Description
University at Buffalo
Naeim Khanjani, MBA '17, BS '16, joins us to share his experience as a startup founder, his work to build a GovTech startup ecosystem in Washington, D.C. and advice on how to get involved with startup ecosystems that work to support entrepreneurs at all stages of growth.
Naeim Khanjani is the CEO and co-founder of Electo Analytics, a public affairs company designed for policy teams of all sizes. Naeim came to the United States as a refugee in pursuit of a better, free and resolute life. He earned his MBA from the University at Buffalo. In 2021, Naeim was named to Forbes Next 1000, a list recognizing entrepreneurs who are shaping the next era of business.
Prior to Electo Analytics, Naeim worked as a financial consultant in New York, and at a leading think tank based in Washington, DC. Naeim now lives in Washington, DC, where Electo is headquartered.
**If you are not able to make the live event, please stay registered to receive the follow-up email with a link to webinar recording.
Pricing

Event Contact
University at Buffalo
Wednesday, March 8, 2023 (12:00 PM - 1:00 PM) (EST)
The Buffalo Niagara Partnership reserves the right to limit the number of postings from any one organization and to reject any posting when deemed to be offensive, inappropriate or not in the public's interest or in conflict with this policy or the mission of the BNP.  The BNP publishes calendar listings in good faith, but the submitting sponsor of the event will be responsible for checking the correctness of the entry; the BNP is not responsible for errors or and losses/inconvenience resulting from errors.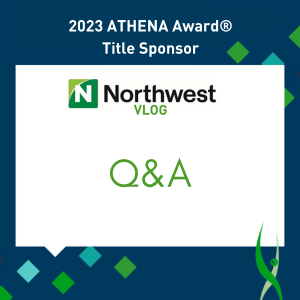 Not only is Northwest Bank the returning title sponsor for the 32nd Annual ATHENA Awards®, but their commitment to women in leadership is reflected in their daily operations.
Learn more in this video Q&A.