The Member Events Calendar keeps you informed about workshops, networking, and fundraising events hosted by Members of the Buffalo Niagara Partnership. Explore the calendar below and check back for new events! 
UB | Trauma-Informed Organizational Change - What Does it Take?
Wednesday, March 15, 2023 (12:00 PM - 1:00 PM) (EDT)
Description
University at Buffalo
Trauma-informed care (TIC) is an organizational change process that requires individuals, organizations and systems to engage in "universal precaution" for trauma: assuming that most individuals have experienced psychological trauma and intentionally responding in ways to reduce the likelihood of doing more harm.
While most organizations and systems are not in the role of providing trauma therapy, they all have opportunity to neutralize workplace and service environments for re-traumatization, while also increasing safety, inclusion and productivity. This webinar will provide an overview of a trauma-informed organizational change framework with examples from the presenter's work in organizations. Samantha Koury, LMSW, MSW '15, BA '13, is the Co-Director at UB's Institute on Trauma and Trauma-Informed Care, as well as a trainer and consultant on various projects. She is a graduate of the University at Buffalo School of Social Work and is a current EdD doctoral student at Marymount University.
Samantha has many years of experience working with staff in different agencies, organizations and systems to become more trauma-informed in their work. She is passionate about trauma-informed leadership, workforce wellness and helping organizations and systems plan for, implement and sustain trauma-informed organizational change.
**If you are not able to make the live event, please stay registered to receive the follow-up email with a link to webinar recording.
Pricing

Event Contact
University at Buffalo
Wednesday, March 15, 2023 (12:00 PM - 1:00 PM) (EDT)
The Buffalo Niagara Partnership reserves the right to limit the number of postings from any one organization and to reject any posting when deemed to be offensive, inappropriate or not in the public's interest or in conflict with this policy or the mission of the BNP.  The BNP publishes calendar listings in good faith, but the submitting sponsor of the event will be responsible for checking the correctness of the entry; the BNP is not responsible for errors or and losses/inconvenience resulting from errors.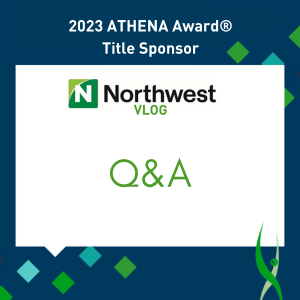 Not only is Northwest Bank the returning title sponsor for the 32nd Annual ATHENA Awards®, but their commitment to women in leadership is reflected in their daily operations.
Learn more in this video Q&A.