As the largest regional chamber of commerce in WNY, we bring approximately 4,500 people together each year via an unprecedented number of events, meetings, and workshops. Designed to facilitate networking opportunities, encourage business development, support professional development, and drive business advocacy, there is a BNP event for every member of your organization. 
2023 BN360: Personal Mental Health Advocacy in the Workplace
Wednesday, February 15, 2023 (12:00 PM - 1:00 PM) (EST)
Description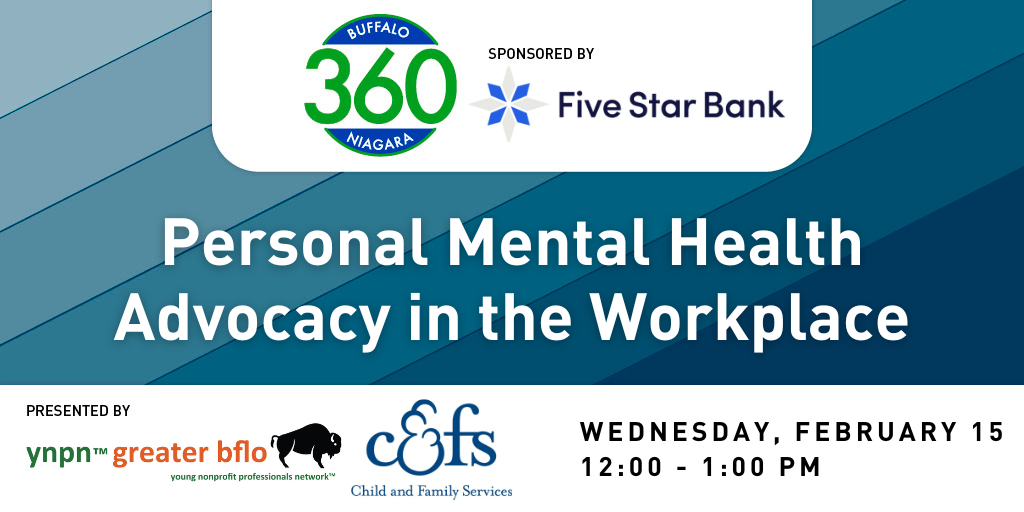 Presented in collaboration with YNPN Greater Buffalo
We all have experiences and stressors that shape how we navigate the world today. How we view the world impacts how we respond, and often impacts personal mental health. Taking care of yourself and understanding your stress response is key to maintaining healthy relationships. In this program we will learn about
the stress
response,
what
it looks like in you and in others. We will also outline what steps you can take to intentionally respond when you know your stress response is being activated, more specifically how to advocate for your mental wellness at work. Your activated stress response may lead to burnout, compassion fatigue, conflict in relationships, and poor performance. Discover how you can prepare and plan for mental health this new year.
Date: Wednesday, February 15, 2023
Time: Noon - 1pm
Location: Virtual Event
Speaker Bio: Megan Andrews, LCSWR, is the Director of Child & Family Services Employee Assistance Program. She is committed to supporting WNY by providing high quality, easily accessible services, through resilience building interventions and connection with community resources. She is an experienced social work administrator and clinician with a history of working in higher education, serving on the faculty of the University at Buffalo School of Social Work for over 20 years. At Child & Family Services, Megan is responsible for providing operational oversite for all EAP account and clinical services. She is focused on implementing effective clinical and professional EAP practices. Megan leads the account management and relationship development with member organizations and throughout the community.

Pricing
Free to BN360 Members & YNPN Members

$25 - BN360 Non-Member Individual Event Ticket

Not a member of BN360 - Join Today!
Corporate Membership information

Individual Membership information
Virtual Event

Wednesday, February 15, 2023 (12:00 PM - 1:00 PM) (EST)
Noon - 1pm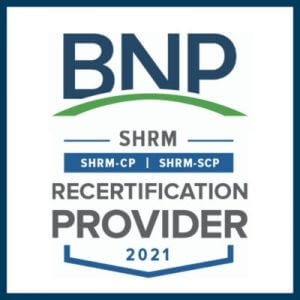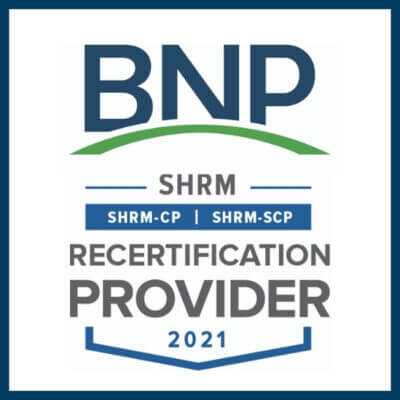 The Buffalo Niagara Partnership has officially been named an authorized Recertification Provider by the Society for Human Resource Management (SHRM). With this certification, participants in our qualified educational trainings and other HR-related programming will now have the opportunity to receive Professional Development Credits (PDCs).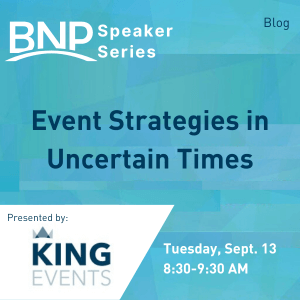 Event organizers have been left questioning whether their events should go back to being in-person, remain virtual or become something in between. How do you make that decision, especially when there is still so much uncertainty? All events are unique, but the most important thing to do is to consider your audience and be prepared to pivot if you need to. Here are a few tips to help get you started.